[En images] L'éclipse totale de Soleil du 9 mars
Discussion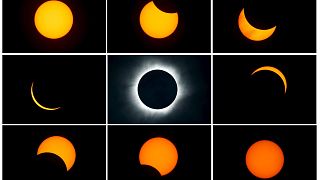 Le spectacle a été au rendez-vous. Ce mercredi, le ciel en Indonésie a été obscurci par une éclipse totale de Soleil, sous le regard de milliers de touristes venus du monde entier pour assister à ce phénomène naturel rare. L'éclipse a également été partiellement observable dans certaines régions du Pacifique ou d'Asie du Sud-Est.
Wow, a total solar #eclipse2016! See the moon pass directly in front of the sun. It happened at 8:38 to 8:42 pm ET. https://t.co/qK6O4xppbn

—

NASA

(@NASA) March 9, 2016
C'est à 6h19 heure locale, soit 23h19 GMT, que la lune a commencé à se placer entre la Terre et le Soleil. Une heure plus tard, plusieurs régions indonésiennes ont été plongées dans le noir, comme l'île de Sumatra, à l'ouest du pays ou Bornéo, plus au centre.
Highlights of 9 March total solar #eclipse from Micronesia https://t.co/izopehZbHUpic.twitter.com/38dnF4tX41

— Astronomy Now (@AstronomyNow) March 9, 2016
L'observation de cette éclipse totale, la seule de 2016, a été favorisée par des conditions de visibilité optimales. Les touristes, dont de nombreux « chasseurs d'éclipse » ont été les témoins de ce balai spatial, magnifié par des jeux de couleurs somptueux.
Now that's a view of the #Eclipse2016 from flight #870. Photo: Anchorage flight attendants Rachael C. & Sofia S. pic.twitter.com/Sa6qOUysRu

— Alaska Airlines (@AlaskaAir) March 9, 2016
VIDEO: What some lucky AlaskaAir</a> passengers saw on flight to Hawaii tonight: <a href="https://t.co/UivRDWFw54">https://t.co/UivRDWFw54</a> <a href="https://twitter.com/hashtag/SolarEclipse?src=hash">#SolarEclipse</a> <a href="https://t.co/KLGSoDCgGK">pic.twitter.com/KLGSoDCgGK</a></p>&mdash; KTVA 11 News (ktva) March 9, 2016
Les amateurs ont déjà coché la date dans leur agenda : la prochaine éclipse totale aura lieu le 21 août 2017 aux Etats-Unis.
.esa</a> micro-satellite PROBA-2 views partial solar <a href="https://twitter.com/hashtag/Eclipse2016?src=hash">#Eclipse2016</a> from space <a href="https://t.co/1PCeJX14Sk">https://t.co/1PCeJX14Sk</a> cc: <a href="https://twitter.com/coreyspowell">coreyspowellpic.twitter.com/YMHdPk9vkt

— Massimo (@Rainmaker1973) March 9, 2016
Himawari 8 satellite shows shadow cast by moon over the Pacific during total solar eclipse pic.twitter.com/uM9i50IfoW

— BuzzFeed Storm (@BuzzFeedStorm) March 9, 2016