Free Euronews widgets and services
We offer a suite of widgets that enable Euronews content to be
quickly and easily embedded into your webpage.
Just In Widget
Avec le widget Just In obtenez les dernières informations internationales ainsi que les breaking news en temps réel sur votre site. Tenez vos visiteurs informés sur les informations Européennes et Internationales sur l'économie, la politique, le sport, la culture…
Comment ajouter notre widget Just In à votre site ?
Décidez où le contenu d'Euronews doit apparaître sur votre page Web
Copiez et collez le code ci-dessous dans votre bloc :
<iframe src='https://fr.euronews.com/embed/timeline' scrolling='no' style='border:none; min-height:425px; width:100%; height:100%;'></iframe>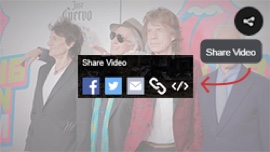 Video Widget
Ajoutez les vidéos Euronews à votre site internet
Comment ajouter nos vidéos à votre site ?
Decide where on your webpage you want the Euronews video to appear
Click the "share" button on the video you wish to embed, this will open an overlay detailing share options
Click on the embed button (the last icon in the proposed list), this will automatically copy the required HTML code
Paste the HTML code into the chosen position in your webpage
Widget météo
Vous pouvez maintenant afficher la météo de votre ville préférée directement sur votre site web, en ajoutant tout simplement notre widget dans votre code HTML.
Comment ajouter notre widget Météo à votre site ?
Le widget à importer est responsive et s'ajustera automatiquement à votre bloc parent. Ne rajoutez pas de largeur à la balise de votre iframe sinon le widget ne sera pas responsive !
Sélectionnez la ville de votre choix grâce au moteur de recherche situé au-dessus du widget
Le widget se met à jour avec les données de votre ville. Cliquez alors sur Partager, en bas à droite du widget
Copiez puis collez le script dans votre bloc sur votre site
Euronews RSS feeds
Subscribe to Euronews' MRSS (Media Really Simple Syndication) feeds to get the latest news available on Euronews' website!
Please note that by accessing Euronews RSS feeds, you agree to our Terms of use