Leonard Cohen est mort, Suzanne et Marianne sont orphelines
Discussion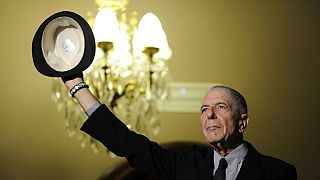 Le chanteur Leonard Cohen est mort à Los Angeles, à 82 ans. Né le 21 septembre 1934 à Montréal au Québec, il était à la fois poète, romancier et auteur-compositeur-interprète. "Suzanne", "So long Marianne","Bird on the Wire", "Dance Me To The End of Love", "The partisan", "Everybody knows", "Hallelujah", et tant d'autres chansons ont marqué des générations depuis la fin des années 60.
En 2008 Leonard Cohen fait son grand retour sur scène, une tournée mondiale à 73 ans, encensée par la critique.
Leonard Cohen a également écrit plusieurs livres "The Spice-Box Of Earth", "Flowers for Hitler","The Favorite Game" ou "Beautiful Losers". Son œuvre poétique a été récompensée par le Prix Princesse des Asturies des Lettres 2011.
Le Premier ministre canadien Justin Trudeau a salué sa mémoire.
La musique de Leonard Cohen était comme nulle autre, mais a pourtant transcendé les générations. Le Canada et le monde pleurent son départ.

— Justin Trudeau (@JustinTrudeau) 11 novembre 2016
There's a blaze of light
In every word
It doesn't matter which you heard
The holy or the broken Hallelujah#RIPLeonard

— Justin Trudeau (@JustinTrudeau) 11 novembre 2016
Le journal de Montréal rapporte que dans "une entrevue le mois dernier au "New Yorker", il avait d'ailleurs confié être "prêt à mourir". "J'espère que ce n'est pas trop inconfortable", avait-il mentionné".
Death of a Ladies' Man. RIP Leonard Cohen. This world didn't deserve you anymore. pic.twitter.com/supxL98QZ0

— Jeremy Bolm (@JeremyXBolm) 11 novembre 2016
Le chanteur Leonard Cohen venait de publier son quatorzième album, "You Want It Darker", s'interrogeant sur la nature de l'homme et d'un dieu tout puissant.
Leonard Cohen's latest isn't one of those waiting-at-death's-door late-career farewells. gregkot</a>&#39;s review: <a href="https://t.co/4HABwFCkPP">https://t.co/4HABwFCkPP</a> <a href="https://t.co/XoYZ8I1ki2">pic.twitter.com/XoYZ8I1ki2</a></p>&mdash; Chicago Tribune A&E (ChiTribEnt) 28 octobre 2016