Royaume-Uni : la hausse des salaires annulée par l'inflation
Discussion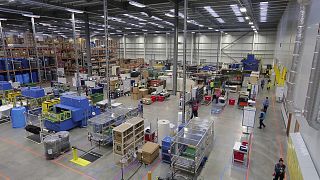 Le pouvoir d'achat des ménages est plus que jamais menacé par l'inflation au Royaume-Uni.Selon le Bureau des statistiques nationales, les salaires annuels n'ont progressé en moyenne que de 2,3% de décembre à février, leur rythme de croissance le plus faible depuis sept mois.
For Dec-Feb 2017 wages up 2.3% on a year including bonuses and 2.2% excluding bonuses https://t.co/6jbzYPxniTpic.twitter.com/7PJCcfSWUc

—

ONS

(@ONS) 12 avril 2017
Une hausse quasiment annulée qui plus est par la flambée de l'inflation, qui atteignait justement 2,3% en février, son plus haut niveau en trois ans.
For Dec-Feb 2017 wages, after inflation, up 0.2% on a yr inc bonuses and 0.1% exc bonuses, weakest growth since 2014 https://t.co/00HTZzteRH

—

ONS

(@ONS) 12 avril 2017
Certes, la hausse des prix à la consommation s'est stabilisée à 2,3% en mars, mais la Banque d'Angleterre l'attend à 2,8% d'ici la fin de l'année, du fait de la dépréciation de la livre sterling depuis le vote de juin en faveur du Brexit.
Inflation in the UK has held steady at 2.3%, with falls in air fares and petrol offsetting other price increases https://t.co/PuHxGPaEoHpic.twitter.com/Cs2acL3hgi

— Financial Times (@FT) 11 avril 2017
Avec Reuters.