Amazon Go : le supermarché sans caissier
Discussion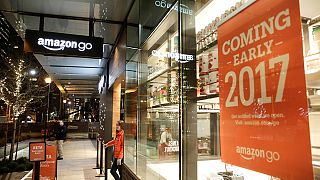 La quatrième révolution industrielle est décidément en marche chez Amazon. Le géant américain de la vente en ligne est en train de tester, dans sa ville de Seattle ,"Amazon Go":http://abonnes.lemonde.fr/big-browser/article/2016/12/06/amazon-sort-de-ses-cartons-son-projet-de-magasin-entierement-automatise_5044363_4832693.html, un concept de supermarché où le client n'a plus besoin de passer en caisse.
Introducing #AmazonGo, a new kind of store with no lines and no checkout. https://t.co/WMii0bWevipic.twitter.com/OmZdzobA5F

— Amazon (@amazon) 5 décembre 2016
Une application mobile permet d'entrer dans le magasin. Des technologies d'intelligence artificielle détectent les produits choisis. Ils seront directement facturés sur le compte Amazon du client.
Cette nouvelle aventure paraît à ce stade plus réaliste que la livraison par drones, toujours envisagée par Amazon, mais qui se heurte à de nombreux obstacles réglementaires.
Amazon Go is a much better idea than delivery drones https://t.co/mNgy3HNRKApic.twitter.com/55SULfdYrH

— Mashable (@mashable) 6 décembre 2016
Les magasins sans caisse pourraient ainsi fleurir aux Etats-Unis dès le début de l'année prochaine et inspirer la concurrence.
850.000 emplois s'en trouveraient menacés dans les supermarchés aux Etats-Unis.
Today's cover: Amazon introduces next major job killer https://t.co/JUvwBiIm9ipic.twitter.com/FsnyATk4vZ

— New York Post (@nypost) 6 de desembre de 2016
Avec AFP, Reuters.