Occupation d'un parc naturel de l'Oregon : un mort, 8 arrestations
Discussion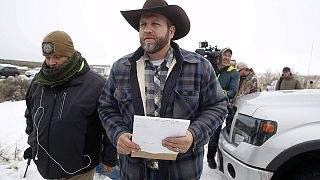 Aux Etats-Unis, après trois semaines de bras de fer, la police et le FBI sont intervenus au parc Malheur. L'occupation illégale d'un parc naturel de l'Oregon par des militants armés s'est soldée mardi soir par un mort, un blessé et huit arrestations.
7 #OregonStandoff occupiers held in #Portland; "LaVoy" Finicum dead. (live updates) https://t.co/NBPeuwWjwxpic.twitter.com/rpC25xX9di

— The Oregonian (@Oregonian) January 27, 2016
#Oregonstandoff spokesman killed and its leaders detained after FBI confrontation https://t.co/DmI3g5UXfxpic.twitter.com/1CVzcS7gFU

—

VICE

News (@vicenews) January 27, 2016
Une milice d'une trentaine de personnes s'y était retranchée, elle réclamait la privatisation de terres détenues par l'Etat fédéral. 53 % des terres de l'Oregon sont détenues par le gouvernement, et ce chiffre monte jusqu'à 73 % dans le comté de Harney, où se situent les territoires revendiqués par les miliciens. Ces espaces sont gérés par différentes agences fédérales, mais en l'occurrence, le parc naturel Malheur National Wildlife Refuge est sous
l'autorité du Fish and Wildlife Service (un organisme qui s'occupe de la gestion et de la préservation de la faune et qui dépend du ministère de l'intérieur).
Ammon Bundy schedules an 11 a.m. news conference to explain the occupation of federal wildlife refuge. pic.twitter.com/04mDP19Bag

— Les Zaitz (@LesZaitz) January 3, 2016
We have not destroyed any property, businesses, or harmed any citizens. #OregonUnderAttack This is truly a peaceful protest against the #BLM

— Ammon Bundy (@Ammon_Bundy) January 4, 2016
Les miliciens sont des exploitants agricoles et des hommes armés hostiles au gouvernement de Washington.
Les deux leaders de ce groupe, les frères Ammon et Ryan Bundy ont été arrêtés mais d'autres seraient toujours retranchés dans le parc. Ils risquent 6 ans de prison pour avoir empêcher des employés du gouvernement fédéral d'exercer leur mission par la force, l'intimidation et les menaces.
Man who says he was Bundy driver recounts police stop, shooting in Facebook video. https://t.co/RDUsUX6489

— Les Zaitz (@LesZaitz) January 27, 2016
L'occupation du parc a débuté le 2 janvier. Les miliciens, une cinquantaine au départ, ont pris d'assaut un bâtiment du gouvernement fédéral, après une manifestation en soutien à deux éleveurs locaux, condamnés à des peines de prison pour avoir mis le feu à des terres fédérales.
.