Fifa : Gianni Infantino nouveau patron du foot mondial
Discussion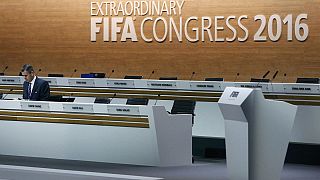 Qui pour succéder à Sepp Blatter, président démissionnaire empétré dans des scandales de corruption ? Le cheikh Salman, président de la Confédération asiatique et Gianni Infantino, n°2 de l'UEFA sont les favoris.
يعلن حساب #حالاوي_نيوز دعمه لحملة مرشح الوطن لإنتخابات رئاسة الفيفا الشيخ سلمان بن إبراهيم آل خليفة #FIFAelectionpic.twitter.com/mMU4OxnmES

— حالاوي نيوز (@7alawy_News) February 15, 2016
Meet presidential cadidate Gianni Infantino ahead of tomorrow's #FIFAElection ➡️ https://t.co/t5jzosDKV5pic.twitter.com/EbUlutQALu

—

KICKTV

(@KICKTV) February 26, 2016
Le prince jordanien Ali et le Français Jérôme Champagne sont eux aussi candidats. Juste avant le début de l'élection, Tokyo Sexwale, ex-militant anti-apartheid et ancien compagnon de route de Nelson Mandela, dont les chances étaient quasi nulles, a annoncé qu'il abandonnait la bataille pour se mettre "au service du futur président".
#BREAKING: Football: South Africa's Tokyo Sexwale withdraws from #FIFA race

—

AFP

news agency (@AFP) February 26, 2016
Le nouveau patron du football mondial sera élu dans l'après-midi à Zurich par 207 fédérations. Et sa tâche sera immense : restaurer une crédibilité et une confiance en ruines auprès du public et des sponsors.
#FIFA Election à suspense pour désigner le successeur de Blatter https://t.co/vLSiPtw084#AFPpic.twitter.com/MkAB9ky903

— Agence France-Presse (@afpfr) February 26, 2016
La Fifa vient de vivre neuf mois de crise, entre perquisitions et arrestations. Depuis, des têtes sont tombées. Sepp Blatter et Michel Platini sont suspendus six ans de toute activité dans le football. Jérôme Valcke, le n°2 de la Fifa a été licencié et suspendu 12 ans.
Fifa: neuf mois dans la tempête https://t.co/o0m0z4itK8#AFPpic.twitter.com/kCtQ9GC8Y3

— Agence France-Presse (@afpfr) February 26, 2016
Live scenes from the #FIFAelection… pic.twitter.com/0cbIBQ2dWZ

—

RAN

squawk (@RANsquawk) February 26, 2016
Le nouveau capitaine du football mondial devra insuffler plus de transparence et dissocier les fonctions politiques et exécutives.
Today FIFAcom</a> votes on reforms against corruption: will it lead to change? <a href="https://t.co/URpFwQ6P9Q">https://t.co/URpFwQ6P9Q</a> <a href="https://twitter.com/hashtag/FIFAelection?src=hash">#FIFAelection</a> <a href="https://t.co/qG0RtpXMdD">pic.twitter.com/qG0RtpXMdD</a></p>&mdash; European Parliament (Europarl_EN) February 26, 2016
#FIFA is presenting its important, wide-ranging reforms to the 209 member associations. The full package is here: https://t.co/2nxpMbsAkJ

— Joshua Robinson (@JoshRobinson23) February 26, 2016