Fin de saison cruelle pour Lindsey Vonn
Discussion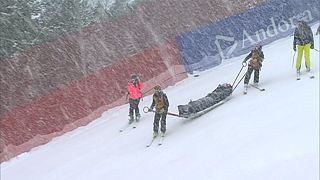 Le couperet est tombé: la saison est terminée pour Lindsey Vonn. L'Américaine qui dominait le classement Coupe du monde s'est blessée sur une chute le week-end dernier en Andorre et se doit se résoudre à dire adieu au cinquième gros globe de Cristal qui lui tendait les bras.
Une IRM a révélé trois traits de fractures du tibia et continuer aurait mit sa carrière en danger.
Lindsey Vonn ne veut surtout pas manquer les prochains Championnats du Monde et Jeux Olympiques qui se tiendront en 2017 et 2018. Elle a surtout un record à battre: celui du nombre de victoires en Coupe du monde. Il lui en manque onze.
Comme à son habitude, la championne n'a pas manqué d'expliquer longuement son choix à ses fans via instagram:
Today I am making the difficult decision to end my season and leave the World Cup circuit due to an injury I suffered last Saturday. Because I am currently leading the Overall World Cup standings, this is one of the toughest decisions of my career. When I crashed on Saturday in Andorra, I fractured my tibial plateau. The traditional X-rays that were taken that afternoon showed a hairline fracture, but the tibial plateau appeared to be stable and did not pose significant risk to competing. So I raced on Sunday. After the Super Combined on Sunday, I went to Barcelona where more precise MRI and CT equipment was available and scans were performed on Tuesday morning. Those images showed that there was not just 1 hairline fracture, but in fact 3. And the fractures are not hairline, but instead they are significant enough that they are not sufficiently stable to permit me to safely continue skiing. Further damage any of the fragments could result in a serious surgery that would risk my future in ski racing. With the World Championships in St. Moritz next year and the Winter Olympics in South Korea the following year, I cannot take that risk. So I have made the decision to end my season. I am very proud of what I have been able to accomplish this year: 9 World Cup victories, breaking the World Cup downhill win record, breaking the World Cup Super G podium record, and winning the most World Cup discipline titles-20—of any skier, male or female. While I am confident that I'm making the right decision, it still doesn't make this decision any easier. Thanks to everyone who supported me and stood by me through it all. Best of luck to all the World Cup competitors. I'll see you again next year. Xo LV
La piste semble désormais dégagée pour la suissesse Lara Gut, la rivale de Vonn, auteur d'une saison remarquable avec cinq victoires et moins de 30 points de retard sur l'Américaine au général. A huit rendez-vous de la fin de l'hiver la Tessinoise s'apprête à être sacrée pour la première fois à 24 ans.