Hanjin Shipping : naufrage entériné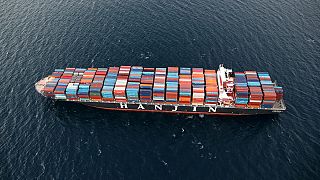 Il prenait l'eau depuis la crise financière de 2008 : le premier armateur sud-coréen et 7ème mondial, Hanjin Shipping, a été déclaré en faillite ce vendredi par le tribunal central du district de Séoul. Un liquidateur a été nommé pour vendre les derniers actifs de la société afin de rembourser ses créanciers.
The timeline of #Hanjin Shipping's demise https://t.co/BnuPjpYHxf#maritimepic.twitter.com/wrPED7ndh0

—

IHS

Maritime & Trade (@IHS4Maritime) 17 février 2017
En août dernier, ils avaient renoncé à renflouer le groupe, plombé par une dette de 5 milliards d'euros. Hanjin Shipping avait alors déposé le bilan. Sa flotte s'était retrouvée immobilisée dans les ports du globe, qui redoutaient de ne pas être payés.
Avec Reuters.