Irak : attentat à la voiture piégée dans un quartier chiite de Bagdad
Discussion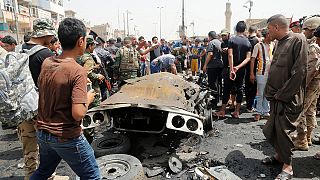 Au moins une soixantaine de personnes ont été tuées ce mercredi dans un attentat à la voiture piégée revendiqué dans un communiqué par le groupe Etat islamique.
L'attaque a eu lieu à proximité d'un marché de Bagdad. L'explosion visait le quartier chiite de Sadr City, dans le nord de la capitale irakienne.
Près de 80 personnes ont été blessées, selon un dernier bilan.
Car bomb near market in Baghdad's Sadr City district kills at least 17 people and wounds 40, Iraqi officials say https://t.co/rAXQmnJ3AM

—

BBC

Breaking News (@BBCBreaking) May 11, 2016
Car bomb hits busy market in Shia town of Sadr City leaves dozens killed #Baghdad#Iraqpic.twitter.com/Pt7HtUIkmr

— Iraq Live Update (@IraqLiveUpdate) May 11, 2016
Ces dernières semaines d'autres attaques similaires ont été revendiquées par le groupe jihadiste Etat islamique qui contrôle une grande partie du territoire irakien.