Premier décollage pour le nouvel A350 d'Airbus
Discussion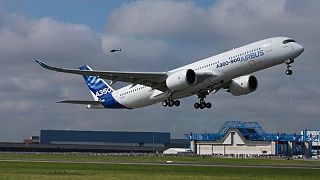 Le nouvel A350 d'Airbus a décollé vendredi à 10h00 précises de l'aéroport de Toulouse-Blagnac pour son premier vol d'essai, étape cruciale d'un programme qui vise à rattraper l'Américain Boeing sur le marché lucratif des avions long-courriers.
Le nouveau biréacteur de l'avionneur européen s'est élevé de la piste Concorde vers le nord-ouest, sous un ciel partiellement nuageux et sous le regard de milliers de salariés d'Airbus sortis des usines pour voir ce nouvel objet de fierté, sous le regard aussi de centaines de Toulousains, de journalistes et d'officiels .
Le biréacteur construit à plus de 50% en matériaux composites, plus légers que le métal, comme le 787 Dreamliner de Boeing, doit voler quatre heures au-dessus du sud-ouest de la France et de l'Atlantique avant de revenir à Toulouse.
Le vol est assuré par six membres du service des essais en vol d'Airbus, deux pilotes, un Britannique et un Français, assistés d'ingénieurs chargés de multiples tests pendant le vol.
C'est le coup d'envoi d'une campagne d'essais visant une mise en service avant fin 2014 du premier A350-900, coeur d'une gamme d'appareils de 270 à 350 sièges assurant des vols jusqu'à 15.000 km sans escale.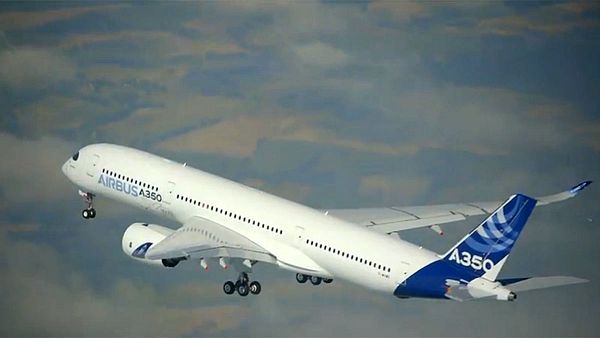 A350 flyby expected in Le Bourget
Our Paris correspondent Giovanni Magi
"We are confident that we can make the first flight of the A350 at the same time of Le Bourget air show in 2013." That's what Airbus' top manager told me in May 2011, when I was filming a story for our aviation magazine "Fly" in Toulouse. And that confidence turned out to be well founded with the maiden flight performed Friday, June 14, not an easy task when it comes to launch an all-new airliner.
Now the general public expects to see up-close the newest member of the Airbus family. A flyby is scheduled in the skies over Le Bourget next Friday or Saturday, probably at a time when French President François Hollande visits the exhibition.
The A350 should make a low pass over Le Bourget's runway, in a 'missed approach'; she will not touch the ground before resuming her route to Toulouse. To make the fly-by possible, the prototype will need to have accumulated at least 10 flight hours in tests over the next few days.
Follow the Bourget Air Show on www.euronews.com and on Twitter. I am @magibiz
AFP