Les caricaturistes réagissent au drame des migrants
Discussion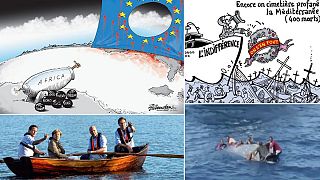 Depuis la mort de plusieurs centaines de migrants clandestins en Méditerranée, les dessinateurs de presse voire les ONG rivalisent de caricatures pour dénoncer l'indifférence de l'Union européenne.
Amnesty International
David Cameron et Angela Merkel naviguant tout sourires sur une barque au milieu de corps de migrants… La vidéo choc diffusée par Amnesty international mélange les images pour illustrer l'indifférence des leaders européens.
Our governments are spending money patrolling borders when they could be saving refugees and migrants' lives. EU leaders have power to change this. Make them care: http://bit.ly/FortressEurope

Posted by Amnesty International on Wednesday, April 15, 2015
Amnesty a également partagé sur Twitter la photo d'une veillée avec le message : ''Leaders européens, agissez maintenant pour sauver les vies des migrants et des réfugiés.''
RT Dontexisteurope</a>: EU leaders: Act Now to Save Migrants and Refugees Lives! <a href="https://twitter.com/hashtag/EUsummit?src=hash">#EUsummit</a> <a href="https://twitter.com/EU2013LT">EU2013LTpic.twitter.com/zeckU90n1I

— Amnesty Vlaanderen (@amnestyvl) octubre 24, 2013
France : Plantu, Le Monde
Dans le journal Le Monde, le caricaturiste Plantu dénonce sans détour l'indifférence générale face aux drames des migrants.
#Lampedusa : Migrants lost in waves!,… A Cartoon by plantu</a> <a href="http://t.co/sgTHrScjxM">pic.twitter.com/sgTHrScjxM</a></p>&mdash; Ali Kheradpir (AliKheradpir) abril 19, 2015
GB : Peter Brookes, The Times
Le britannique Peter Brookes évoque ''l'attitude honteuse'' de l'Union européenne dans un dessin paru dans The Times.
My cartoon on Friday TheTimes</a> on the EU&#39;s shameful attitude to migrants sailing from N Africa. <a href="http://t.co/Xut9GbYEgd">pic.twitter.com/Xut9GbYEgd</a></p>&mdash; Peter Brookes (BrookesTimes) abril 17, 2015
Italie : la vidéo émouvante de La Rai
La télévision italienne joue davantage sur l'émotion avec une animation montrant une femme et son enfant marchant sur un pont inachevé de cadavres en Méditerranée. Leur chemin s'arrête à l'approche des côtes.
Espagne : l'UE fait bronzette
Le dessin de Ricardo dans El Mundo montre une femme, vêtue d'une écharpe de l'UE, flottant sur un matelas pneumatique au milieu de pierres tombales, qui jonchent les fonds de la Méditerranée.
El naufragio europeo, una vez más http://t.co/q2exonOY2j Por barahmikail</a> investigador de <a href="https://twitter.com/FRIDE">FRIDE (Viñeta: Ricardo) pic.twitter.com/4ySz8KCjic

— EL

MUNDO

(@elmundoes) abril 21, 2015
Les leaders mondiaux traversent la Méditerannée
Les leaders mondiaux entassés sur un canot pneumatique au milieu de la Méditerranée… Cette photo, prise lors de la marche républicaine suite aux attentats de Paris, est devenue virale sur le web.
abril 21, 2015
Cartoon movement
La plateforme de caricaturistes, Cartoon Movement, a diffusé ce dessin montrant un amas de crânes au fond de la Méditerranée avec ce titre : la raison pour laquelle le niveau des mers augmente.
#Cartoon Movement – WHYSEALEVELSARERISINGhttp://t.co/EwP1DQ59To#migrants#migrationpic.twitter.com/Ka7fCk61EU

— Klaas Brecht (@KlaasBrecht) abril 20, 2015
Cartoon Movement – The immigration problem and the EU http://t.co/ygOKt1Fr3Z#migrants#migrationpic.twitter.com/1EE66ysthq

— Klaas Brecht (@KlaasBrecht) abril 20, 2015
Afrique du Sud : Brandan E. Reynolds
Le caricaturiste sud-africain Brandan E.Reynolds illustre le voyage périlleux vers l'Europe des migrants africains qui fuient la guerre, l'oppression, la pauvreté, les dictateurs, Boko Haram, l'EI, les Shebab…
Yet another boatload of desperate illegal migrants in search of a better life goes down… Business Day cartoon,… http://t.co/l8UGpVKRcW

— Brandan E. Reynolds (@brandanrey) abril 21, 2015