"Game of Thrones" : la Reine d'Angleterre, fan du Trône de fer ?
Discussion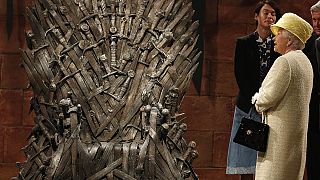 La Reine d'Angleterre Elizabeth II a pu visiter la salle du Trône de fer de Westeros. Elle s'est en effet rendue, avec son époux le duc d'Édimbourg, dans les studios où sont tournées des scènes de la série à succès "Game of Thrones" d'HBO.
En plus de visiter certains décors, elle y a aussi rencontré des membres de l'équipe et des acteurs de la série, dont Lena Headey, qui joue elle la reine Cersei Lannister..
La reine était à Belfast à l'occasion d'une visite de trois jours en Irlande du nord.
Si Elizabeth II a bien été prise en photo à côté du Trône de fer, le mythique trône des souverains de Westeros, elle ne s'est pas pour autant assise dessus.
Selon la saga "A Song of Ice and Fire" de George R.R. Martin qui a inspiré la série sur HBO, le trône a été forgé par le roi Aegon I Targaryen.
Les flammes de son dragon Balérion furent utilisées pour modeler le siège à partir d'un millier d'épées des nobles s'étant rendus devant les armées Aegon I le Conquérant.
La reine Elizabeth II connait, depuis 62 ans, un règne beaucoup calme que ceux des divers rois qui peuplent la série dont la popularité ne cesse de s'accroitre. HBO a en effet déclaré que "Game of Thrones" était son plus grand succès d'audience, dépassant même les Sopranos.
La série est tournée partiellement en Irlande du nord depuis 2009, ce qui, s'ajoutant aux retombés touristiques, a apporté plus de 102 millions d'euros (82 millions de livres) à la région.
Visite de la Reine Elizabeth II, les meilleurs tweets