La BCE prolonge et diversifie ses rachats de dette
Discussion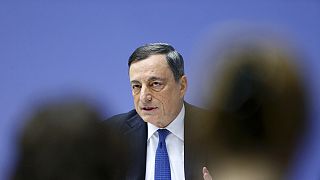 La Banque centrale européenne a annoncé ce jeudi une extension de 6 mois de son programme de rachat de dette. Il se poursuivra jusqu'en mars 2017 au moins, toujours au rythme de 60 milliards d'euros par mois et sera élargi aux dettes émises par les administrations régionales et locales de la zone euro.
Draghi: Second, we decided to extend the asset purchase programme until the end of March 2017, or beyond, if necessary

—

ECB

(@ecb) 3 Décembre 2015
La BCE a aussi décidé d'abaisser son taux de dépôt, qui passera de – 0,2 % à – 0,3 % le 9 décembre prochain. Ce taux négatif vise à inciter les banques à investir leurs liquidités dans l'économie réelle, via des prêts aux ménages et aux entreprises.
Draghi: First, we decided to lower the interest rate on the deposit facility by 10 basis points to -0.30%

—

ECB

(@ecb) 3 Décembre 2015
La BCE a par ailleurs revu ses prévisions de croissance à la hausse à 1,5 % en 2015 (contre 1,4 % précédemment), 1,7 % en 2016 et 1,9 % en 2017 en zone euro. L'institution de Francfort estime que la baisse continue des cours du brut va dégager du pouvoir d'achat et stimuler la consommation.
Ces mesures ont pour objectif de relancer l'inflation, ressortie à 0,1 % en novembre, loin de l'objectif de 2 % de la BCE.
Draghi: The latest staff projections indicate continued downside risks to the inflation outlook

—

ECB

(@ecb) 3 Décembre 2015
Les marchés, qui attendaient plus, ont vivement réagi à ces annonces : à Paris, la déception a fait instantanément plonger le Cac40 de 3 %, tandis que l'euro s'est envolé à 1,0892 dollar, son plus haut niveau en un mois.