Australie : législatives anticipées le 2 juillet
Discussion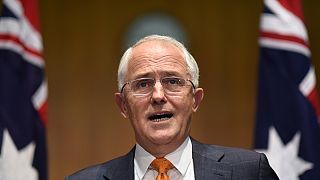 C'est fois c'est officiel. Des législatives auront bien lieu le 2 juillet prochain en Australie. Confirmation dimanche du Premier ministre Malcolm Turnbull. Le chef de la coalition conservatrice au pouvoir veut conforter sa position par le suffrage des urnes. Il avait renversé en septembre son prédecesseur Tony Abbott dans un "putsch" interne à leur Parti libéral.
Malcolm Turnbull has called a July 2 election. See what he said and Shorten's response here: https://t.co/SmoKeMybgKpic.twitter.com/t9EdkTo721

— The Australian (@australian) 8 mai 2016
Coalition Leadership team full of enthusiasm for our campaign on #jobsandgrowth#Election2016pic.twitter.com/besPHaOi7R

— Julie Bishop (@JulieBishopMP) 8 mai 2016
L'Australie a changé cinq fois de Premier ministre en cinq ans. Les précédentes élections avaient eu lieu en septembre 2013 et le prochain scrutin devait légalement être organisé avant janvier 2017.
Agé de 61 ans, Malcolm Turnbull aura face à lui un parti travailliste emmené par Bill Shorten, ex-leader syndical âgé de 48 ans.
#Election2016 Who won the campaign's opening day, Malcolm Turnbull or Bill Shorten? #auspolhttps://t.co/mKsJos7vvJpic.twitter.com/BNSqMBc375

— The Australian (@australian) 8 mai 2016
Le dernier sondage publié dimanche par News Limited annonce un duel serré entre la coalition au pouvoir et l'opposition, toutes deux créditées de 50% des intentions de vote.
avec AFP