Syrie : pas d'accord entre Washington et Moscou
Discussion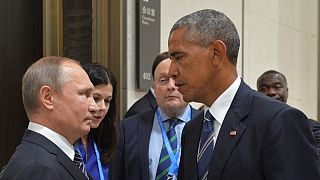 Même une rencontre au plus haut niveau n'y a rien fait : Moscou et Washington ne sont pas parvenus à trouver un accord sur la Syrie. Barack Obama et Vladimir Poutine se sont rencontrés ce lundi matin en marge de la réunion duG 20 en Chine. Ils n'ont pas fait mieux que John Kerry et Serguei Lavrov, leur chef de la diplomatie.
#G20: Meeting with US President Barack Obama https://t.co/qUnQZpvO2Opic.twitter.com/ENMgftWEFc

— President of Russia (@KremlinRussia_E) September 5, 2016
#G20: Putin and Obama talked Syria and Ukraine. Meeting is finished https://t.co/B3HAKCmlwEpic.twitter.com/E4GyYh6pIy via dimsmirnov175</a></p>&mdash; Liveuamap (Liveuamap) September 5, 2016
Les deux puissances sont toujours en désaccord sur le sort du président syrien Bachar al-Assad.
Le régime de Damas continue de cibler l'opposition syrienne avec le soutien russe, autre pomme de discorde avec les Etats-Unis. La Maison Blanche est aussi réticente à l'idée d'offrir au président russe une occasion de gagner une légitimité internationale alors qu'il soutient le régime d'Assad accusé d'avoir utilisé des armes chimiques.
Même concernant les raids contre les jihadistes en Syrie, les deux puissances agissent en solo et effectuent des frappes séparément.
avec AFP