Au moins 20 pompiers tués dans les décombres d'un immeuble de Téhéran
Discussion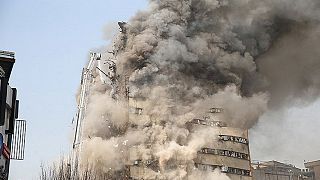 Une scène d'horreur qui rappelle l'effondrement des tours du 11 septembre. A Téhéran ce matin, un immeuble de 17 étages s'est écroulé, après avoir été ravagé par un incendie. 20 pompiers ont été tués dans l'amas de béton et de fer. 75 personnes ont été blessées, parmi elles 45 pompiers.
Le bâtiment avait été évacué au moment de l'incendie, seuls des pompiers luttaient à l'intérieur. La douleur est immense pour leurs collègues survivants.
A fireman just after being saved from collapsed #Plasco high-rise in #Iran's capital city, shouts: "Get off me, I must save my colleagues". pic.twitter.com/K7zYtBq90l

— Abas Aslani (@AbasAslani) 19 January 2017
Cet immeuble construit au début des années 60 abritait notamment un centre commercial et des ateliers de vêtements. A l'époque le Plasco Building était l'une des plus hautes tours de la capitale iranienne.
Built in 1964, #Plasco was one the first highrises in #Tehran. Iran is mourning the loss of lives and the loss of the building. #پلاسکوpic.twitter.com/kerWaCJHKh

— Radio Zamaneh (@ZamanehRadio) 19 January 2017
Devastating: Tehran's Iconic Plasco Building Collapses After Fire; 30 Reportedly Dead https://t.co/RipDuWYegx#پلاسكو#Iranpic.twitter.com/fhiOPtFGBE

— Omid Memarian (@Omid_M) 19 January 2017
Le feu, qui a duré pendant quatre heures, avait débuté au 9ème étage de l'immeuble et s'était propagé jusqu'au toit. Le président Rohani a réclamé une enquête immédiate pour déterminer les causes de l'incendie. Des inquiétudes sur la sécurité du bâtiment avaient déjà été soulevées dans le passé.