Trump relance la construction de deux oléoducs controversés
Discussion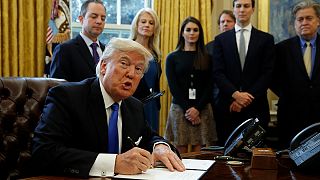 Une simple signature, pour balayer les décisions de Barack Obama. Dans le bureau ovale, le nouveau président américain a signé des décrets relançant la construction de deux oléoducs controversés. Keystone XL qui relie le Canada aux Etats-Unis, et celui de la compagnie Energy Transfer Partners dans le Dakota du Nord.
Signing orders to move forward with the construction of the Keystone XL and Dakota Access pipelines in the Oval Office. pic.twitter.com/OErGmbBvYK

— Donald J. Trump (@realDonaldTrump) 24 janvier 2017
Fin 2015, sept ans après la première demande de permis de construire pour Keystone XL, Barack Obama avait refusé le projet qui selon lui ne renforçait pas la sécurité énergétique des Etats-Unis. Quand à l'oléoduc dans le Dakota du Nord, une tribu sioux s'est opposée à son passage sur les sépultures de ses ancêtres, pendant plusieurs mois. Barack Obama leur avait donné raison en décembre, Donald Trump vient de doucher leurs espoirs.
President Trump has shown a blatant disregard for tribal sovereignty and responsible energy development. #DAPLhttps://t.co/h7kmpqivHh

— Martin Heinrich (@MartinHeinrich) 24 janvier 2017