La liberté retrouvée pour Ildar Dadine, manifestant russe
Discussion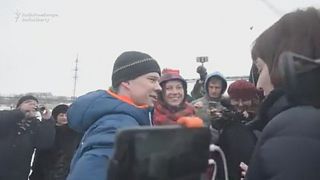 L'opposant de 34 ans était attendu par les siens, après deux années passées derrière les barreaux.
Six mois avant la fin de sa peine, la femme et la soeur de Ildar Dadine sont venues le chercher au fin fond de la Sibérie.
Ildar Dadin is free and in front of his prison paricipate in Moscow march commemorating Boris Nemtsov, who was killed this day two years ago pic.twitter.com/tA0bzAYiWX

— X Soviet (@XSovietNews) February 26, 2017
Sa femme envisage de déménager à l'étranger, de peur d'une nouvelle arrestation.
Ildar Dadine avait été emprisonné en vertu d'une loi adoptée à l'été 2014. Elle prévoit que toute personne qui participe à des manifestations plus de deux fois en six mois soit poursuivie.
Some of Ildar Dadin's protests, for which he was originally sentenced to three years in prison, reduced to two and a half and now overturned pic.twitter.com/tDowbsqaMA

— X Soviet (@XSovietNews) February 22, 2017
Ildar Dadine est la seule personne à avoir été emprisonnée pour cette raison. Lors de sa détention, il avait dénoncé des tortures et des passages à tabac réguliers de ses gardiens.
#torture legalized in certain Russian prisons: Anastasia wife of Russian #politicalprisoner#IldarDadin#GenevaSummitpic.twitter.com/cOExggx6i3

— Gary Caroline (@Gary_Caroline) February 21, 2017