Le Nobel de physique attribué à trois Américains pour la détection des ondes gravitationnelles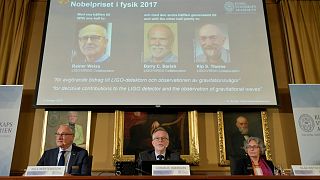 Le prix Nobel de physique vient d'être attribué, ce mardi à Stockholm, à trois chercheurs américains qui sont à l'origine de la détection des ondes gravitationnelles.
BREAKINGNEWS The 2017 #NobelPrize in Physics is awarded to Rainer Weiss, Barry C. Barish and Kip S. Thorne LIGO</a>. <a href="https://t.co/za1GNsAfnE">pic.twitter.com/za1GNsAfnE</a></p>— The Nobel Prize (NobelPrize) October 3, 2017
Les trois astrophysiciens américains Rainer Weiss, Barry Barish et Kip Thorne ont été récompensés pour leur contribution au programme LIGO, qui a permit de détecter pour la première fois des ondes gravitationnelles, ces ondulations de l'espace-temps.
Le jury Nobel a primé "leurs contributions décisives au détecteur LIGO et l'observation des ondes gravitationnelles", une avancée capitale de la recherche qui confirme une prédiction d'Albert Einstein dans sa théorie de la relativité générale. Leur "découverte a bouleversé le monde", a souligné le secrétaire-général de l'Académie des sciences, Göran Hansson.
The discovery that shook the world – very, very slightly…. https://t.co/1b3anvfPoo

—

LIGO

(@LIGO) October 3, 2017
Avec AFP