Patrick Lange sacré champion du monde Ironman
Discussion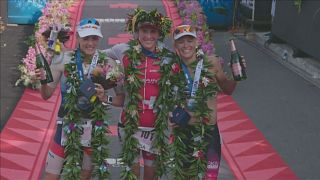 L'Allemand Patrick Lange a bien mérité son surnom d'homme de fer. Il a remporté samedi le Championnat du monde de triathlon Ironman à Hawaii, battant au passage le record de l'épreuve en 8h 01m 34s.
Patrick Lange comptait toujours neuf minutes de retard sur le Canadien Lionel Sanders après les 180 km de cyclisme, mais refait son retard dans l'épreuve de course.
Il prend la tête à 5 kilomètres de l'arrivée et passe seul la ligne à Kona.
This year, he went for the full course record, and smashed it 2 minutes to spare. PatrickLange1</a> is your 2017 Men's IRONMAN World Champion! <a href="https://t.co/99k9m99kPI">pic.twitter.com/99k9m99kPI</a></p>— IRONMAN Triathlon (IRONMANtri) 15 octobre 2017
Scénario légèrement plus favorable chez les femmes pour Daniela Ryf, qui remporte son troisième titre consécutif.
La Suissesse prend les devants vers la fin de l'épreuve cycliste et assomme ses concurrentes sur ses deux jambes.
La Britannique Lucy Charles termine deuxième à près de neuf minutes.