George Saunders lauréat du Man Booker Prize
Discussion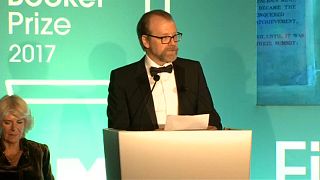 C'est le prix littéraire le plus prestigieux pour les oeuvres anglophones et son lauréat 2017 est un américain. Lors d'une cérémonie à Londres, le Man Booker Prize a été remis par la duchesse Camilla à George Saunders pour son ouvrage "Lincoln in the Bardo". L'occasion pour l'auteur de faire passer un message à la tribune.
"Vous l'avez peut-être remarqué, nous vivons une époque étrange. Je l'ai remarqué, a-t-il dit. Donc la question centrale, pour moi, est plutôt simple : répondons-nous à la peur par l'exclusion, une projection négative et la violence ? Ou revenons-nous à ce bon vieil acte de foi en essayant au mieux de répondre par l'amour."
"Licoln in the Bardo" est le premier long roman de George Saunders, réputé pour ses nouvelles. Il raconte à travers les récits de très nombreux narrateurs la mort du fils d'Abraham Licoln à l'âge de 11 ans, mêlant faits réels et éléments fantastiques.
'Fiction is a way of making us endure ambiguity and see truth' – #ManBooker2017 winner George Saunders at the press conference pic.twitter.com/nFnbTz7iGA

— Man Booker Prize (@ManBookerPrize) October 17, 2017