Des migrants morts en Méditerranée, assassinés?
Discussion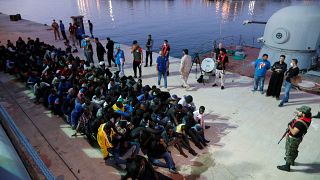 Dans le port de Salerne, au sud de Naples, un navire rentre. Il est chargé de migrants. Ceux qui ont été sauvés vendredi. Ce jour là, le bateau espagnol Cantabria a été impliqué dans deux opérations ; au cours de la première, 146 personnes ont été secourues. Pendant ce temps, l'hélicoptère du navire continue de patrouiller dans la zone et identifie "un autre canot pneumatique en train de couler". A son bord, 23 corps de femmes, elles auraient été assassinées. 64 autres personnes sont récupérées vivantes.
Over 2560 #migrants saved in the Mediterranean in the last 4 days. 34 corpses recovered. #migrantslivesmatterUNmigration</a></p>— Flavio Di Giacomo (fladig) 4 novembre 2017
700 personnes environ ont été secourues pour la seule journée de vendredi. En 10 mois, l'arrivée de migrants a diminué de 30% par rapport à l'année dernière.