Legends of Space : le premier pas sur la Lune vu par Frank De Winne
Discussion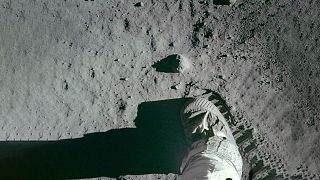 Directeur du Centre européen des astronautes, le Belge Frank De Winne revient pour nous sur la mission lunaire historique, Apollo 11. Le 20 juillet 1969, l'homme a pour la première fois marché sur la Lune. Un évènement gravé dans la mémoire de l'ancien astronaute de l'ESA.
"Mon premier souvenir de la mission Apollo 11, c'est quand les astronautes se sont posés sur la Lune, raconte Frank De Winne. J'avais à peu près 8 ans à l'époque et je sais que mes parents m'ont réveillé au milieu de la nuit pour je vienne voir l'atterrissage à la télévision : pour moi, évidemment, c'était un évènement très spécial," assure-t-il.
"Un vaste élan pour la science et la technologie"
"Les missions spatiales comme Apollo sont une source d'inspiration pour les jeunes générations, s'enthousiasme Frank De Winne avant d'ajouter : À l'époque des missions Apollo, il y a eu un vaste élan pour la science et la technologie : de nombreux étudiants en doctorat ont obtenu leur diplôme pendant cette période, aux Etats-Unis comme ici en Europe."
Do you remember the Moon landings, or know someone who does? We're looking for volunteers to share their stories with us on July 25. See ⬇️ pic.twitter.com/G3VOlj91NT

— Blackrock Castle (@blackrockcastle) 11 juillet 2017
La Lune comme tremplin ?
La Lune reste-t-elle un objectif aujourd'hui ? La réponse ne fait pour lui, aucun doute : "On devrait aller explorer la Lune pour voir si on peut exploiter les ressources qui sont sur place et si on peut faire de la Lune, un tremplin pour aller plus loin et éventuellement, réaliser notre rêve qu'un jour, un homme ou une femme pose le pied sur Mars."