Tour du Qatar : Kristoff devance Cavendish
Discussion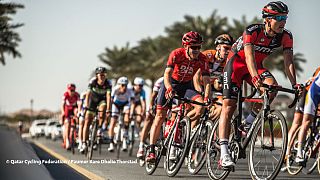 Le Norvégien Alexander Kristoff remporte de justesse la deuxième étape du Tour du Qatar, véritable répétition des championnats du monde.
C'est en effet sur ces mêmes routes ouvertes au vent, en bord de plage, que Peter Sagan tentera de conserver son maillot arc-en-ciel à l'automne prochain.
En attendant, ce mardi, c'est la formation Katusha qui roule en tête du peloton pour annihiler toutes les tentatives d'échappée.
A 400 mètres de la ligne d'arrivée, sur une route hyper large, en pleine ligne droite, mais sans la moindre barrière, une chute entraîne plusieurs coureurs à terre, dont Andrea Guardini et Soren Kragh Andersen.
Where are the barriers here ?? Riders sprinting at 65kmph in the last 1km into a kerb is not acceptable https://t.co/8sNKj8231K#ToQ2016

— Dean Downing (@dean0downing) February 9, 2016
Alexander Kristoff domine au sprint et à la photo-finish le Britannique Mark Cavendish, vainqueur la veille de la première étape et toujours en tête du classement général.
Place ce mercredi à un contre-la-montre individuel de 11 kilomètres sur le circuit de Losail.
Kristoff wins stage 2 of the Tour of Qatar, beating Cavendish in a photo finish #TOQ2016 | https://t.co/UZisyhyXjMpic.twitter.com/4UnXO41CPn

— Cyclingnews.com (@Cyclingnewsfeed) February 9, 2016