NBA : Golden State élimine Portland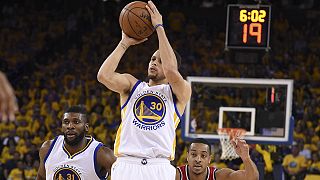 Golden State se qualifie pour la finale de la conférence Ouest de la NBA aux dépens de Portland.
Les Warriors bouclent cette série avec quatre victoires à une, dont la dernière sur leur parquet 125 à 121.
Les Trail Blazers vendent chèrement leur peau à l'image de Damian Lillard et C.J. McCollum qui terminent avec 28 et 27 points.
Mais les Californiens ont dans leurs rangs un duo encore plus performant, les "Splash Brothers".
On to the Western Conference Finals, #DubNation! #Warriors win series vs. Portland in 5 games. #StrengthInNumberspic.twitter.com/UteDDnwtwp

— GoldenStateWarriors (@warriors) May 12, 2016
Klay Thompson inscrit 33 points et Stephen Curry 29 en plus de délivrer 11 passes décisives.
Le meneur, qui a reçu son deuxième trophée consécutif de MVP juste avant le coup d'envoi de la rencontre, s'illustre surtout dans le dernier quart-temps.
C'est lui qui ruine les derniers espoirs de Portland avec un tir longue distance à 25 secondes du buzzer.
MVP stuff. #TiVoWorthyhttps://t.co/vLKssMtbpJ

— GoldenStateWarriors (@warriors) May 12, 2016
En finale de conférence, les champions en titre, qui ont outrageusement dominé la saison régulière, seront opposés à Oklahoma City ou à San Antonio.
Le Thunder peut mettre fin au parcours des Spurs ce jeudi en cas de victoire à domicile.