Plainte contre Hillary Clinton dans l'affaire de ses courriels controversés
Discussion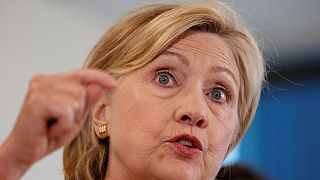 Si l'image de Donald Trump se brouille chaque jour davantage, celle d'Hillary Clinton n'est pas non plus au beau fixe.
L'ex-secrétaire d'Etat de Barak Obama doit désormais faire face à une plainte officielle déposée par les parents de deux Américains tués en Libye en 2012.
The parents of two men killed in the Benghazi attacks are suing Hillary Clinton https://t.co/eJelUldyWapic.twitter.com/E3GovUi7oN

— Bloomberg Politics (@bpolitics) 9 août 2016
Une affaire exploitée par les républicains. Lors de la convention du parti, en juillet dernier, la mère d'une des victimes avait jugé Hillary Clinton responsable du décès de son fils.
Présents à la RNC à Cleveland, les parents de 2 Américains tués à Benghazi, en 2012, poursuivent contre H. Clinton. https://t.co/7uIilvnNYf

— Elections

USA

(@LeMonde_USA) 9 août 2016
En juillet dernier, le FBI conclu que l'ancienne secrétaire d'Etat avait fait preuve d'une "négligence extrême".
Clinton avait envoyé des courriels confidentiels via un serveur privé non sécurisé qui auraient mis en péril la sécurité nationale du pays, estiment ses adversaires.
Mais le FBI avait exlcu des poursuites pénales.
L'attaque de l'ambassade américaines de Libye en septembre 2012 à Benghazi qui s'était soldée par la mort de quatre Américains dont l'ambassadeur, empoisonne la campagne d'Hillary Clinton depuis des mois.
Mardi, le porte-parole de la candidate a rappelé qu'aucune des neuf enquêtes menées jusque-là n'avait démontré que la candidate démocrate avait mal agi.
Avec Agences