"L'Afghane aux yeux verts" du National Geographic est en prison
Discussion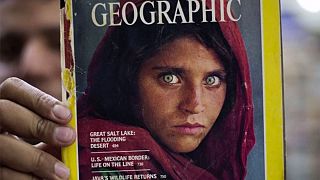 L'Afghane aux yeux verts qui avait fait la une du National Geographic en 1984 est en prison au Pakistan.
Sharbat Gula va passer 14 jours en détention en attendant la fin d'une enquête.
Sharbat Gula—the woman behind one of the world's most iconic photos—could be sentenced to several years in prison. https://t.co/mvVPoRaS4o

— National Geographic (@NatGeo) 26 octobre 2016
Elle a été arrêtée mercredi à Peschawar "pour obtention de faux papiers d'identité".
Pakistan : l'Afghane aux yeux verts de la célèbre photo a été arrêtée https://t.co/C7kv7mPIPC

— Le Parisien (@le_Parisien) 26 octobre 2016
Cette dernière clame son innocence. En cas de condamnation, elle risque de 7 à 14 ans de prison. L'Afghanistan et le photographe américain qui l'avait immortalisé à l'âge de 12 ans font pression et réclament la clémence des juges.
Source : AP