Le guitariste de rock Rick Parfitt est décédé
Discussion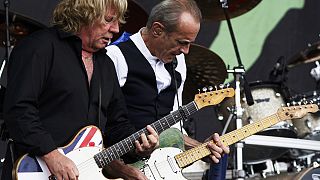 Rick Parfitt, le guitariste du groupe de rock britannique Status Quo est décédé ce samedi à l'âge de 68 ans, des suites d'une infection.
Rest in peace, Status Quo's Rick Parfitt. You will be greatly missed. pic.twitter.com/KsiBkQfh3K

— Marshall Amps (@MarshallAmpsUK) December 24, 2016
Le musicien avait été admis jeudi soir à l'hôpital de Marbella, en Espagne, à la suite d'une complication liée à une blessure à une épaule.
Rock Parfitt a connu de nombreux problèmes de santé par le passé. Le groupe Status Quo était célèbre notamment pour ses tubes "In the Army Now", Caroline" ou bien encore "Rockin' All Over the World". Il avait écoulé plus de 100 millions de disques.
Le guitariste envisageait de se lancer dans une carrière solo et prévoyait de sortir un album l'année prochaine.
RIP Rick Parfitt of @Status_Quohttps://t.co/kh09AYBBEJ

— Planet Rock (@PlanetRockRadio) December 24, 2016