L'hommage des Québécois aux six victimes musulmanes de l'attaque de dimanche
Discussion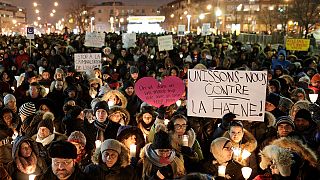 Derrière la bannière appelant à la solidarité avec les musulmans, le Premier ministre canadien Justin Trudeau, des responsables québécois et des milliers d'anonymes… Tous ont bravé les moins 15 degrés qui s'étaient abattus sur la ville de Québec hier soir pour rendre hommage aux six fidèles musulmans tués en pleine prière dimanche. Huit autres personnes avaient été blessées dans le centre culturel islamique de Québec.
These are the six victims of the terror attack on #Quebec Mosque. Share their faces and memory instead of the killers. #QuebecShootingpic.twitter.com/iJILfiF52W

— Suhail Mohammed (@shadowwraiths) January 31, 2017
"C'est très difficile pour nous tous, que l'on soit musulman ou pas, a déploré une jeune femme participant à la veillée. Parce que si vous êtes capable de tuer une personne, vous n'êtes pas humain, il n'y a pas d'humanité dans votre coeur."
L'auteur de l'attaque, un étudiant en sciences politiques de 27 ans, s'est rendu à la police. 11 chefs d'inculpation ont été portés contre lui. Ils correspondent aux meurtres avec préméditation et aux tentatives de meurtres sur les blessés.
Alexandre Bissonnette, qui étudiait et vivait à côté de la mosquée, était connu pour ses prises de position nationalistes. Il pourrait aussi être inculpé pour terrorisme.
The Globe confirming that #Bissonnette is known for posting right-wing rhetoric on social media. #QuebecShootinghttps://t.co/4quAM7ljwv

— Steven Zhou (@stevenzzhou) January 30, 2017