Accident maritime : dix 'marines' toujours portés disparus
Discussion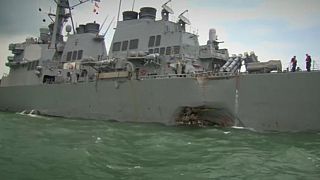 Le destroyer américain USS John S. McCain a subi lundi une lourde avarie après une collision avec un pétrolier au large de Singapour. Le choc a entraîné une brèche de plus de six mètres de long : plusieurs compartiments "y compris des couchages, la salle des machines et la salle de radio" ont été inondés, a déclaré la marine américaine.
Watch: Video shows the damage caused to the USS John S McCain, which collided with an oil tanker during a routine port visit to Singapore pic.twitter.com/ah3y51soRY

— Sky News (@SkyNews) 21 août 2017
Cinq marines ont été blessés et dix autres sont toujours portés disparus. Pour des raisons encore inexpliquées, le lance-missile américain a heurté un pétrolier de 30 000 tonnes battant pavillon du Liberia. Le président américain a aussitôt réagi sur twitter : il a adressé "ses pensées et ses prières" aux marins de la Navy. Le sénateur républicain John MC Cain en a fait autant : le bateau porte le nom de son père et de son grand-père, ancien amiraux de marine américaine.
La carte des lieux de l'accident

#UPDATE Ten US sailors missing after destroyer collides with tanker off Singapore https://t.co/pPtu6GEQ0G#JohnSMcCainpic.twitter.com/g4eq7E3Edd

—

AFP

news agency (@AFP) 21 août 2017
Le destroyer USS John S. McCain rentrait de mission en mer de Chine méridionale : une mission qui avait provoqué la fureur de Pékin dans une zone stratégique revendiquée par la Chine. Le 17 juin dernier en mer du Japon un autre destroyer était entré en collision avec un navire marchand. Sept marines avaient été tués et trois autres avaient été blessés.
Avec Agences