"The State of the Union" : le coronavirus sème la pagaille en Europe
Discussion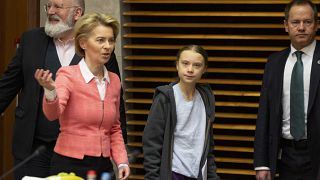 -
Au programme du "State of the Union" de la semaine : le coronavirus sème la panique en Europe ; tensions à la frontière entre la Grèce et la Turquie, et Greta Thunberg reçue à Bruxelles.
Si la propagation du coronavirus inquiète les esprits, les dirigeants de l'UE se soucient de la diffusion de fausses informations sur l'origine de la maladie et sur les moyens de s'en protéger
La crise migratoire fait à nouveau les grands titres, après l'ouverture de la frontière turque avec la Grèce. Le président du Conseil de l'UE a rencontré son homologue turc, et les images de la rencontre, en disent long sur l'état d'esprit des discussions.