NFL : nouveau record pour Peyton Manning
Discussion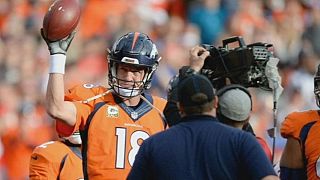 Peyton Manning entre un peu plus dans la légende de la NFL.
Dimanche, il a été établi un nouveau record. Contre Kansas City, le quaterback des Broncos de Denver est devenu, à 39 ans, le joueur avec le plus de yards gagnés à la passe en NFL, avec un total de 71 871.
This is how Peyton Manning joined the record books and became the NFL all-time leader in career passing yards https://t.co/snFpuavBph

—

NFL

(@NFL) 15 Novembre 2015
Manning a effacé des tablettes Brett Favre, quaterback légendaire de Green Bay qui s'est arrêté à 71 838 yards, 33 de moins que Manning. Une performance historique pour le joueur de Denver donc, mais qui n'a pas empêché la défaite de son équipe (29 – 13).
Avec Manning et Favre, Dan Marino est le seul autre quaterback de l'histoire à avoir atteint la barre des 60 000 yards à la passe en NFL.