La fièvre du loto gagne les Etats-Unis avec un jackpot à plus d'un milliard de dollars
Discussion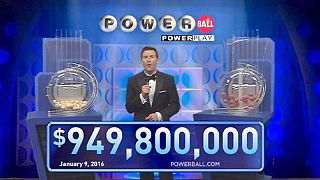 Près de 950 millions de dollars. C'était le montant record ce samedi du jackpot du Powerball, la loterie américaine, sauf qu'aucun participant n'a remporté le gros lot et que les gains vont encore augmenter pour atteindre 1,3 milliard de dollars lors du prochain tirage… De quoi faire saliver les Américains, nombreux à se ruer devant les points de vente pour acheter un ticket de loto, y compris ceux qui ne jouent jamais.
À la question, "que feriez-vous avec tout cet argent", voici ce qu'ils répondent : "Prendre des vacances, ouvrir un nouveau commerce, dit cet homme, et donner à des œuvres de charité."
"J'ai sept enfants, dit cette femme, donc la priorité serait de financer leurs études. Sinon, je mettrais beaucoup d'argent de côté et j'en donnerais à des associations."
No winner in US $900m lottery, will now be rolled over to Wednesday with jackpot expected to be $1.3bn https://t.co/yatHzOt0Mg

—

BBC

News (World) (@BBCWorld) 10 Janvier 2016
BREAKING: Lottery officials say there were NO winner in tonight's Powerball, jackpot now at record $1,300,000,000 pic.twitter.com/vfbGnNhaRd

—

CNBC

Now (@CNBCnow) 10 Janvier 2016
Au Royaume-Uni, également, le jackpot de la loterie affichait un montant record de 66 millions de livres sterling (87 millions d'euros) soit trois fois plus que le précédent record il y a vingt ans. Et il y a eu deux tickets gagnants.