Sarah Palin soutient Donald Trump à la primaire républicaine
Discussion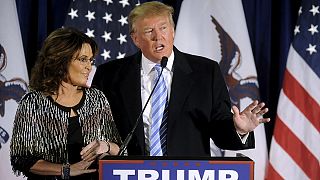 Sarah Palin n'a rien perdu de sa verve et fait profiter Donald Trump de sa popularité dans le camp conservateur. La candidate malheureuse à la présidentielle de 2008 apporte son soutien à la candidature du milliardaire américain aux primaires.
Breaking News: Sarah Palin has endorsed Donald Trump in the GOP primary, helping him appeal to Tea Party loyalists
https://t.co/j6RImSsvyL

— The New York Times (@nytimes) January 19, 2016
'He's going rogue left and right' https://t.co/3ftupV7YYJpic.twitter.com/AGBeo91rkx

— Andrew Rafferty (@AndrewNBCNews) January 20, 2016
Elle estime qu' il est le seul capable de terrasser l'establishment politique. "Etes-vous prêts pour être commandant en chef ? Etes-vous prêts à avoir un commandant en chef qui laissera nos guerriers faire leur travail et botter le cul de l'Etat islamique ?"
Un franc-parler et un soutien dont s'est félicité l'homme d'affaires. Personnalité respectée des Tea Party, l'extrême droite du camp républicain, Sarah Palin représente un atout pour atteindre la base très conservatrice de l'électorat conservateur.
Don't forget, Palin played a huge role in 2010 tea party push, as well as down-ticket races in 2012 and 2014. She's got some influence.

— Ryan Struyk (@ryanstruyk) January 19, 2016