Outsider dans le New Hampshire, Clinton galvanisée face à Sanders
Discussion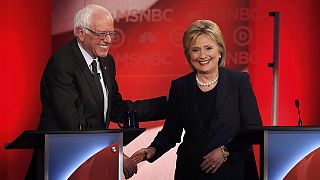 A quatre jours des primaires du New Hampshire aux Etats-Unis, Hillary Clinton s'est montrée particulièrement pugnace au cours du débat qui l'a opposé à Bernie Sanders pendant deux heures. C'était le premier duel entre les deux démocrates, le troisième candidat Martin O'Malley, ayant jeté l'éponge après son échec dans l'Iowa.
"Je suis très fier d'être le seul candidat qui n'a pas de super PAC, le comité d'action politique qui finance les campagnes, qui ne lève pas des fonds énormes à Wall Street ou de la part d'intérêts privés" a lancé Bernie Sanders.
"Je ne pense vraiment pas que ce genre d'attaques sous forme d'insinuation soit digne de vous, a répliqué Hillary Clinton. Ca suffit. Si vous avez quelque chose à dire, dites le directement mais vous ne pourrez jamais montrer que j'ai changé d'opinion ou de vote en raison d'un don."
Hillary Clinton refuses to commit to releasing transcripts of her speeches to Wall St firms that paid her huge money https://t.co/QTA3hajKUB

— David Sirota (@davidsirota) February 5, 2016
Bernie Sanders qui promet l'université gratuite pour tous et de lourdes taxes sur les bénéfices de Wall Street fait la course en tête dans le New Hampshire. Les sondages lui donnent jusqu'à vingt points d'avance sur Hillary Clinton.
New WSJ poll finds that Sanders maintains big lead over Clinton in New Hampshire. https://t.co/W7aALhq0z6

— Wall Street Journal (@WSJ) February 5, 2016
Bernie Sanders has turned Hillary Clinton's greatest strength—her experience—into a weakness https://t.co/h46Yw7aqzNpic.twitter.com/kcrmvSWC3M

— The New Yorker (@NewYorker) February 5, 2016