Nigel Farage démissionne de la tête de son parti europhobe Ukip
Discussion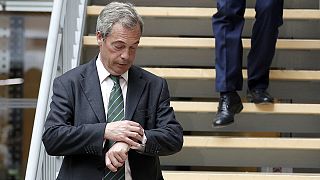 Une nouvelle annonce surprise dans le camp des pro-Brexit. Nigel Farage a annoncé publiquement qu'il renonçait à diriger Ukip, le parti europhobe et anti-immigration qu'il a co-fondé, lors d'une conférence de presse ce lundi à Londres.
"Je n'ai jamais voulu faire carrière dans la politique. Mon but en faisant de la politique était de sortir la Grande-Bretagne de l'Union européenne. Nous avons voté pour cela dans ce référendum, il y a deux semaines, et c'est pourquoi j'ai le sentiment d'avoir accompli ma mission, et je ne pourrais pas faire plus que ce que nous avons atteint avec ce référendum. Et donc je crois qu'il convient que je démissionne maintenant en tant que leader de Ukip".
Thank you to all my supporters in @UKIP and beyond. Delighted with the result we fought for so long to achieve. #BrexitBritain

— Nigel Farage (@Nigel_Farage) July 4, 2016
Il a toutefois indiqué qu'il conserverait son mandat de député au Parlement européen. Il a aussi dit qu'il continuerait à soutenir son parti et à suivre de près les négociations à Bruxelles de sortie de l'UE.