Hugh Laurie (Dr House) a son étoile à Hollywood
Discussion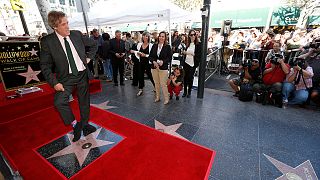 Hugh Laurie, alias Dr House a désormais son étoile sur Hollywood Boulevard. L'acteur britannique a inauguré mardi sa plaque sur le Walk of Fame (la Promenade de la Célébrité).
I don't how to say this, or even be, except baldly: I am getting a star on Hollywood Blvd this Tuesday 25th at 11.30 am.

— Hugh Laurie (@hughlaurie) 24 octobre 2016
Âgé de 57 ans, Hugh Laurie a gagné deux Golden Globes en 2006 et 2007 et a été sept fois nommé aux Emmys pour son rôle dans la série hospitalière à succès Dr House. Il était le comédien de télévision le mieux payé au monde. Il a également joué dans la série "The Night Manager" et plusieurs films dont "A la poursuite de demain".
Hugh Laurie est par ailleurs un éminent musicien de blues, membre du groupe "The Copper Bottom Band".