La police interroge le suspect de la fusillade de l'aéroport de Fort Lauderdale
Discussion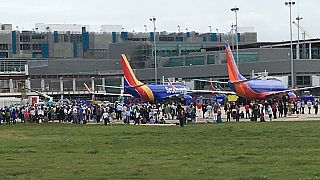 Réfugiés sur le tarmac, des gens terrorisés. L'aéroport Fort Lauderdale-Hollywood, à quelques dizaines de kilomètres de Miami, a été le théâtre à la mi-journée ce vendredi d'une fusillade meurtrière. Un homme a abattu froidement les passagers dans la zone de récupération des bagages. Bilan : cinq morts et huit blessés.
L'enquête a avancé très vite, explique Scott Israel, le shériff du comté.
"Cinq personnes ont succombé à leurs blessures, elles sont tragiquement mortes. Nous ne donnerons aucune information sur les victimes tant que nous n'aurons pas leur identité, ce qui va prendre du temps. Le tireur est interpellé, il n'est pas blessé, les forces de l'ordre n'ont pas tiré. L'homme est interrogé par le FBI et par les détectives du bureau du shériff."
Alleged picture of Esteban Santiago, Ft. Lauderdale shooter. Unconfirmed. pic.twitter.com/RVQObpqAQn

— Paul Joseph Watson (@PrisonPlanet) 6 January 2017
L'aéroport a été fermé. C'est le second aéroport de Floride, emprunté l'an dernier par 2,5 millions d'usagers. Il dessert principalement les Caraïbes.
My heart goes out to those affected by the shooting in Fort Lauderdale today. I'm keeping the victims and their families in my prayers.

— Nattie (@NatbyNature) 6 January 2017
Le tueur de 26 ans était arrivé par un vol depuis le Canada, avec son arme vide et contrôlée. Il est allé dans les toilettes la recharger. Reste à savoir comment les munitions y sont arrivées.
26-year-old citizen with concealed carry permit; isn't that NRA</a>&#39;s definition of a good guy with a gun? <a href="https://t.co/00VLVvFVdk">https://t.co/00VLVvFVdk</a> <a href="https://twitter.com/hashtag/FLLShooting?src=hash">#FLLShooting</a></p>&mdash; Shannon Watts (shannonrwatts) 6 January 2017
En quelques mois la Floride est à nouveau meurtrie, après l'attentat en juin dans un club gay d'Orlando qui avait fait 49 morts.