La RDC admise au Conseil des droits de l'Homme
Discussion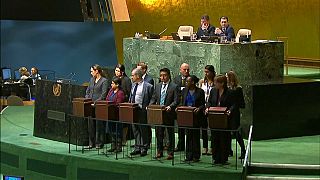 La crédibilité du Conseil des droits de l'Homme de l'ONU est un peu plus affaiblie. Après avoir accueilli en son sein l'an dernier l'Arabie saoudite et la Chine, il vient de s'attirer de nouvelles critiques en intégrant la République démocratique du Congo. Le pays a recueilli 151 voix sur 193 à l'Assemblée générale des Nations Unies. "Une insulte pour les nombreuses victimes des abus commis par le gouvernement", a réagi le directeur de Human Rights Watch, Louis Charbonneau.
Victory of DR #Congo in #HRCelections is slap in face to victims of govt's grave abuses across #DRC. Win likely due to uncontested slate. pic.twitter.com/nvOlzbNauG

— louis charbonneau (@loucharbon) October 16, 2017
Au total, 15 pays ont gagné le droit de siéger pour trois ans au sein de cette institution censée veiller au respect des droits de l'Homme dans le monde. Or la RDC fait justement l'objet d'une enquête au Conseil pour les atrocités commises dans la région du Kasaï par les forces gouvernementales et les milices. Des violences qui n'ont fait que s'aggraver depuis que le président Joseph Kabila a refusé de quitter le pouvoir en décembre dernier.