Donald Tusk réélu à la présidence du Conseil européen
Discussion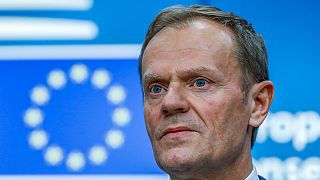 Le président du Conseil européen, Donald Tusk, est réélu pour un nouveau mandat de deux ans et demi. L'ancien Premier ministre polonais poursuit donc sa mission à la tête de l'institution qui représente les chefs d'État et de gouvernement de l'Union européenne.
Grateful for trust & positive assessment by #EUCO. I will do my best to make the EU better.

— Donald Tusk (@eucopresident) 9 mars 2017
La reconduction de Donald Tusk ne souffre d'aucune contestation puisque la quasi totalité des dirigeants européens a soutenu sa candidature. Finalement, seule la Pologne s'est opposée à cette réélection. Varsovie n'a eu de cesse ces derniers jours de contester le président du Conseil européen. A son arrivée au sommet, la Première ministre polonaise a réaffirmé sa position mais sans convaincre ses partenaires.