Réseaux sociaux : attention aux fausses photos de l'Egypte sous la neige
Discussion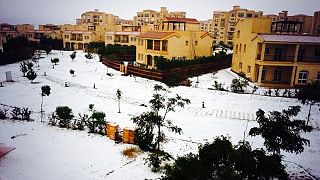 S'il a neigé pour la première fois au Caire la semaine dernière pour la première fois depuis 112 ans, certains utilisateurs profitent de cette météo historique pour piéger les amateurs de photos étonnantes.
En effet, plusieurs des photos les plus partagés sur les réseaux sociaux se sont avérées fausses.
Par exemple, cette photo :
No it is not Switzerland. This is how #Sinai looked yesterday. مصر بقت أد الدنيا أهو Lollllz pic.twitter.com/t1HdB9n1js

— Jasmine Elnadeem (@Selnadeem) 13 Décembre 2013
Grâce à l'enquête des journalistes de Storyful, on sait désormais que si cette photo a bien été prise dans le Sinaï, elle date au moins du moins de janvier 2013.
Autre exemple, cette vue aérienne du Sphinx sous la neige est en fait une photo prise d'une miniature dans un parc à thème japonais spécialisé dans les maquettes.
This #photo of the sphinx covered with snow is from a miniature exhibition in #Japan, not #Egyptpic.twitter.com/1cu2HaJbp7

— Egyptian Streets (@EgyptianStreets) 14 Décembre 2013
Une nouvelle image doit s'ajouter à cette liste de faux ; le 14 décembre, le compte Twitter @HistoryInPics a posté l'image suivante :
Snow has fallen on the pyramids for the first time in 112 years. pic.twitter.com/pzXTqdHvGp

— History In Pictures (@HistoryInPics) 14 Décembre 2013
Mais des utilisateurs de Twitter ont rapidement découvert la supercherie et critiqué le compte responsable du message. Il s'agit en fait d'une photo des pyramides de Gizeh un jour de soleil, photo à laquelle on a apposé un filtre blanchissant la scène.
Oh hey @HistoryInPics. Say, isn't this the same photo, but without the crappy filter? Wow. I think it is… pic.twitter.com/KdgT09X6Ha

— Mikey Smith (@mikeysmith) 14 Décembre 2013