Visite inédite du Premier ministre indien au Pakistan
Discussion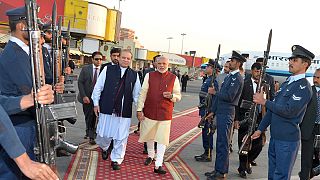 C'est une visite inattendue qui pourrait marquer l'histoire des relations entre l'Inde et le Pakistan.
Narendra Modi s'est rendu ce vendredi au Pakistan pour rencontrer son homologue Nawaz Sharif.
Revenant d'Afghanistan, le chef du gouvernement indien a fait une halte à Lahore.
Am personally touched by Nawaz Sharif Sahab 's gesture of welcoming me at Lahore airport and coming to the airport when I left.

— Narendra Modi (@narendramodi) December 25, 2015
Cette visite est *inédite, la première depuis plus de 10 ans.
Car les tensions sont vives entre les deux voisins qui se disputent notamment le *Cachemire, une région himalayenne située à la frontière.
Cette visite marque-t-elle une réelle avancée ou n'est-elle qu'un petit pas vers le dégel.. difficile de le dire au vu des réactions mitigées au Pakistan et en Inde. L'opposition indienne a jugé "irresponsable" cette visite décidée à la dernière minute.
Cette rencontre intervient quelques semaines après l'annonce de la reprise de pourparlers de paix entre les deux pays qui détiennent l'arme nucléaire.
Des négociations interrompues en 2008 suite aux attentats islamistes de Bombay, fomentés par un groupe basé au Pakistan.