Etats-Unis : le sit-in des démocrates à la chambre des représentants
Discussion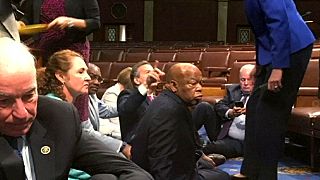 Grosse pagaille à la chambre des représentants à Washington.
Depuis une dizaine heures, des députés démocrates occupent l'hémicycle.
Assis par terre, les députés protestent contre le refus de la majorité républicaine de voter une loi restreignant les armes à feu après la tuerie d'Orlando qui a fait 49 morts.
Thank you John Lewis for leading on gun violence where we need it most. https://t.co/vctfqAH5Wt

— President Obama (@POTUS) 22 juin 2016
Rompant avec les usages très policés de la Chambre, les démocrates exigent la réouverture de l'assemblée qui devait fermer ses portes en raison de la fête nationale américaine.
Les caméras filmant l'événement ayant été coupées, ce sont les députés eux-mêmes qui transmettent ces images via les réseaux sociaux.
Fed-up Dems just occupied House Floor – won't move until we get a vote on No-Fly, No-Buy. pic.twitter.com/cIrWgrMnC0

— Mike Doyle (@USRepMikeDoyle) 22 juin 2016
Les images de ce sit-in ont déjà fait le tour du monde. Dénoncé par les Républicains, le mouvement a nénamoins reçu l'appui de Barak Obama.
We need more than moments of silence. We need action. And that's what's going on in the House now: https://t.co/L9m0dSfipA#NoBillNoBreak

— Barack Obama (@BarackObama) 23 juin 2016
Dépassé par les événements, le président républicain de la chambre, Paul Ryan, essaye tant bien que mal d'éteindre l'incendie.
Retweet if you agree → The sit-in by House Democrats is nothing more than a publicity stunt. #StopTheStunthttps://t.co/YGgl2yLHyB

— Paul Ryan (@SpeakerRyan) 22 juin 2016
Les démocrates sont déterminés à faire des armes à feu un thème central de la prochaine campagne présidentielle.
Avec Agences