Blanchiment d'argent russe : Deutsche Bank à l'amende
Discussion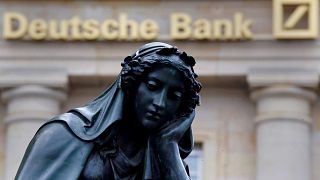 La Deutsche Bank à l'amende aux Etats-Unis et en Grande-Bretagne dans le cadre d'une enquête sur le blanchiment d'argent russe.
La première banque d'Allemagne va verser 630 millions de dollars, soit 590 millions d'euros, pour un tiers au régulateur bancaire britannique, le reste à son alter-ego de l'Etat de New York.
Deutsche Bank agrees to pay $630m to settle allegations the bank helped to launder $10bn from Russia https://t.co/Sp5w8FMDccpic.twitter.com/RCpqv5pX4p

— Financial Times (@FT) 31 janvier 2017
En cause : les transactions dites "miroirs" de certains clients russes.Ces montages leur permettaient d'acheter des actions à Moscou en roubles et de les revendre quasi instantanément à Londres ou à New York dans d'autres devises. Entre 2011 et 2015, ils ont permis de sortir l'équivalent de 10 milliards de dollars de Russie.
Le ministère américain de la justice et la Réserve fédérale poursuivent leur propre enquête sur cette affaire.
Avec AFP, Reuters.