Seize rescapées du cancer du sein défilent pendant la New York Fasion Week
Discussion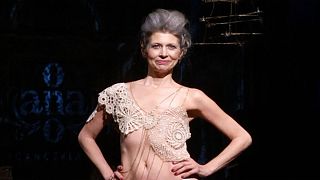 Ces seize femmes ont un point commun : celui d'avoir été atteintes par un cancer du sein. Lors de la Fashion Week de New York, elles ont défilé le 12 février pour la maison AnaOno. Lancée par la jeune créatrice Dana Donofree, la marque propose des tenues d'intérieur et de la lingerie spécialement conçues pour les femmes ayant subies une opération du sein ou une mastectomie.
Today is the big day! We walk with and for #Cancerland. And you can live stream our show tonight at 5 pm, ET – https://t.co/Ybr2kHHg6qpic.twitter.com/XirT3jrDFF

— AnaOno Intimates (@AnaOnoIntimates) 12 février 2017
La jeune femme a lancé sa griffe après avoir elle-même était victime d'un cancer du sein.
Les fonds collectés dans le cadre de cette soirée ont été reversés au mouvement #Cancerland, qui milite pour donner plus d'exposition aux victimes du cancer du sein.