Ukraine : la coupure de la centrale de Tchernobyl ne présente "pas d'impact majeur sur la sécurité"
Discussion
Par Euronews avec Agences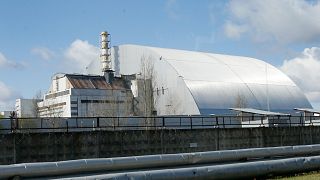 -
Retrouvez ci-dessous, le déroulé du 9 mars, quatorzième jour de la guerre en Ukraine. Tout au long de cette journée, nous vous avons proposé de suivre en direct les derniers développements de la situation sur le terrain et dans les coulisses de la diplomatie internationale.
09.03.2022
21:00
Nous allons mettre un terme à notre couverture en direct. Retrouvez-nous demain matin.
09.03.2022
20:13
Le concert de condamnations internationales se poursuit après le bombardement par les forces russes d'un hôpital pour enfants à Marioupol. La Maison-Blanche a ainsi affirme qu'"il est atroce de voir le genre d'utilisation barbare de la force militaire contre des civils innocents dans un pays souverain". 17 adultes ont été blessés dans ce bombardement selon le dernier bilan.   
09.03.2022
20:10
Le ministre russe des Affaires étrangères Serguei Lavrov est arrivé ce mercredi soir en Turquie, où il doit retrouver son homologue ukrainien Dmytro Kuleba, pour la première rencontre diplomatique à ce niveau depuis l'invasion de l'Ukraine par la Russie le 24 février, a indiqué à l'AFP un responsable officiel turc.
Les discussions prévues ce jeudi matin à Antalya, dans le sud du pays, participent des efforts du président turc Recep Tayyip Erdogan de jouer un rôle de médiation depuis le début de la crise.
09.03.2022
18:56
L'Unesco, agence des Nations unies pour l'éducation, la science et la culture et dont l'une des missions est la protection du patrimoine mondiale, a indiqué
dans un communiqué
être "
en contact permanent avec toutes les institutions concernées, ainsi qu'avec les professionnels de la culture en Ukraine pour évaluer la situation et renforcer la protection des biens culturels
".
09.03.2022
18:38
La Banque européenne de reconstruction et développement (BERD) a annoncé ce mercredi deux milliards d'euros de mesures en réponse à la guerre en Ukraine, pour apporter un "soutien ciblé sur les réfugiés, les entreprises et la sécurité énergétique".
Il s'agit d'un "premier ensemble de mesures" destiné à "aider les personnes, les entreprises et les pays affectés par la guerre en Ukraine", a annoncé la BERD, dont le siège est à Londres,
Des financements seront rapidement mis à disposition pour soutenir les entreprises ukrainiennes, grâce notamment à des prêts ou soutiens en liquidités. "Dans la mesure du possible, les entreprises seront aidées à se relocaliser pour leur permettre de poursuivre leur activité."
La banque promet aussi de l'aide aux pays directement touchés par les afflux de réfugiés ukrainiens, grâce notamment à des achats d'énergie d'urgence pour compenser les pertes au niveau des importations de Russie et de Biélorussie.
Le cadre de l'intervention "pourrait aussi être étendu pour couvrir d'autres pays ayant des difficultés particulières en matière de sécurité énergétique", indique la BERD.
Dans message publié sur Twitter, le président ukrainien, Volodymyr Zelensky a remercié la BRED de son soutien. 
.
09.03.2022
18:09
Un hôpital pédiatrique de Marioupol, port assiégé du sud-est de l'Ukraine, a été détruit ce mercredi par des bombardements russes.
"Il y a 17 blessés confirmés parmi le personnel hospitalier", a-t-il indiqué à la télévision ukrainienne, précisant qu"'il n'y avait aucun enfant" parmi les blessés et "aucun mort", selon un premier bilan communiqué par Dix-sept adultes ont été blessés  a annoncé un responsable régional, Pavlo Kirilenko.
Volodymyr Zelensky avait rapidement réagi sur Twitter, indiquant que "des gens, des enfants se trouvent sous les décombres". Dans son message, le président ukrainien a également réitéré sa demande pour instaure une zone d'exclusion aérienne au dessus de l'Ukraine. 
There are few things more depraved than targeting the vulnerable and defenceless.

The UK is exploring more support for Ukraine to defend against airstrikes and we will hold Putin to account for his terrible crimes. #PutinMustFailhttps://t.co/JBuvB78HVC

— Boris Johnson (@BorisJohnson) March 9, 2022
Le Premier ministre britannique, Boris Johnson a, lui, déclaré qu'"Il y a peu de choses plus immorales que de cibler les personnes vulnérables et sans défense", a déclaré Boris Johnson en relayant sur Twitter un article sur les frappes russes contre cet hôpital.
09.03.2022
18:07
Les Etats-Unis ont déployé deux nouvelles batteries anti-aériennes Patriot en Pologne, conformément à leur engagement à défendre le territoire des pays de l'Otan, a indiqué mercredi un haut responsable du Pentagone.
Ces batteries anti-aériennes, habituellement stationnées en Allemagne, ont été repositionnées "à la demande" du gouvernement polonais, a précisé ce haut responsable ayant requis l'anonymat
09.03.2022
17:07
Le Kremlin a indiqué qu'un entretien téléphonique avait eu lieu ce mercredi entre le président russe Vladimir Poutine et le Chancelier allemand Olaf Scholz. Lors de cet échange, les deux dirigeants ont discuté des "options concernant les efforts politiques et diplomatiques" et le président russe a "fourni des informations au sujet des mesures prises pour mettre en place des couloirs humanitaires pour évacuer les civils des zones de combats", a indiqué la présidence russe dans un communiqué.
09.03.2022
16:59
Le point sur les centrales nucléaires ukrainiennes : 
Hormis la centrale de Tchernobyl qui a été arrêtée suite à la catastrophe de 1986, l'Ukraine dispose de 4 centrales nucléaires qui fournissaient en 2020 51,2% de l'électricité du pays. Les 15 réacteurs installés sur le sol ukrainien fournissent une puissance totale de 13,8 GW. A titre de comparaison les 56 réacteurs français représentent une puissance de plus de 60 GW.
La centrale de Zaporijjia, la plus grande d'europe avec ses six réacteurs de 1 000 MW, avait été touchée par des frappes russes vendredi 4 mars. L'AIEA avait indiqué qu'aucun équipement "essentiel" n'avait été endommagé.
Les 4 centrales sont la propriété d'EnergoAtom, une entreprise d'Etat qui les opère également. 
L'Ukraine possédé également en son sol 2% des réserves mondiales d'uranium, soit plus de 110 000 selon des données de 2017 
09.03.2022
15:02
L'AIEA vient de donner plus de précisions sur la situation sur site nucléaire de Tchernobyl.
L'alimentation électrique du site nucléaire de Tchernobyl a été donc "complètement" coupée ce mercredi, et l'incident en cours  ne présente "pas d'impact majeur sur la sécurité", selon le gendarme onusien du nucléaire. 
La centrale, à l'origine de la plus grave catastrophe nucléaire civile en 1986, "a été complètement déconnectée du réseau électrique en raison des actions militaires de l'occupant russe. Le site n'a plus d'alimentation électrique", a déclaré l'opérateur ukrainien Ukrenergo sur sa page Facebook.
L'offensive étant en cours, "il n'y a pas de possibilité de rétablir les lignes", précise-t-il.
Le site de Tchernobyl, situé dans une zone d'exclusion, comprend des réacteurs qui ont été déclassés après 1986, dont le réacteur numéro 4 recouvert d'un sarcophage, et des dépôts de déchets radioactifs.
Selon le ministre ukrainien des Affaires étrangères, Dmytro Kuleba, la centrale dispose de "générateurs de secours d'une capacité de 48 heures". Une capacité également confirmée par l'opérateur Ukrenergo sur sa page Facebook.
"Après cela, les systèmes de refroidissement du combustible entreposé vont s'arrêter", a-t-il averti sur Twitter.
Actuellement, 20 000 assemblages combustibles sont stockés dans la piscine d'entreposage du site.