Softbank va investir massivement aux Etats-Unis
Discussion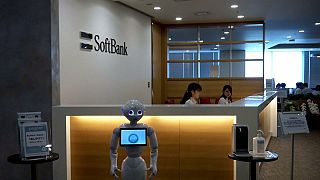 Softbank va investir 50 milliards de dollars aux Etats-Unis.
Masayoshi Son, PDG du géant japonais des télécommunications, maison mère de l'opérateur américain Sprint, s'en est entretenu avec le président élu Donald Trump ce mardi à New-York. Il a promis 50.000 créations d'emplois via des investissements dans des start-up.
Masa (SoftBank) of Japan has agreed to invest $50 billion in the U.S. toward businesses and 50,000 new jobs….

— Donald J. Trump (@realDonaldTrump) 6 décembre 2016
BREAKING: Pres.-elect Trump makes surprise visit in Trump Tower lobby, says Softbank will invest $50B into the US to create 50,000 new jobs pic.twitter.com/tMY3fdBdxC

—

CNBC

Now (@CNBCnow) 6 décembre 2016
L'action Softbank a gagné 6% sur cette annonce à Tokyo.
De son côté, le Taïwanais Foxconn, numéro un mondial de la sous-traitrance électronique avec comme client Apple et Sony, dit lui aussi envisager des investissements aux Etats-Unis.
Avec AFP, Reuters.