La surprise d'Obama à son vice-président
Discussion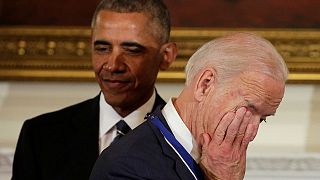 Séquence émotion pour Joe Biden jeudi à la Maison Blanche.
A sept jours de la fin de son mandat Barack Obama a réservé une surprise à son fidèle vice-président, à ses côtés depuis huit ans.
Après avoir salué l'exceptionnelle carrière politique de Joe Biden, un vétéran de la politique americaine, au Sénat notamment, Barack Obama a annoncé qu'il allait lui remettre la médaille présidentielle de la Liberté, l'une des décorations civiles les plus prestigieuses aux Etats-Unis.
Mais Joe Biden ignorait manifestement tout de cette manifestation.
The moment Joe Biden found out he'd be receiving the Presidential Medal of Freedom from President Obama https://t.co/jFjOjDFIbXpic.twitter.com/GKVlswXG6N

—

CNN

(@CNN) 13 janvier 2017
Biden a aussitôt déclaré qu'il ne méritait pas cette distinction. Mais qu'il l'acceptait parce qu'elle était un témoignage affectueux du président sortant.
Non sans humour, Barack Obama n'a pu s'empêcher d'évoquer leur 'Bromance', (contraction des mots anglais brother et romance) – leur romance fraternelle – ces huit dernières années.
Le vice-président a surtout soigné la sortie de son président : «Ce fut une aventure incroyable», a déclaré Joe Biden, Et de saluer «l'intégrité et la décence» du président démocrate «un homme remarquable qui a fait des choses remarquables pour ce pays».
Avec Agences