[En images] Inondations "historiques" à Houston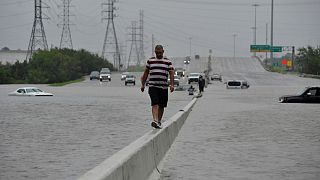 Depuis deux jours, des trombes d'eau s'abattent sur Houston, la plus grande ville du Texas. Et selon les services météorologiques, les inondations provoquées par la tempête tropicale Harvey sont déjà considérées comme "sans précédent". La quatrième ville des Etats-Unis a ainsi reçu plus de 60 cm de pluie en 48 heures.
Harvey a provoqué la mort de trois personnes selon un bilan provisoire. Les dégâts provoqués par la tempête tropicale risque d'être considérables. Le gouverneur de l'Etat, le républicain Gregg Abbot, estime ainsi qu'ils atteindront "des milliards de dollars".
#Katrina displaced 1M people. #Harvey has displaced 6.8M
The layers of catastrophe will be felt for months, if not years.
Help if you can. pic.twitter.com/FUjPqfbc0X

— Victoria Brownworth (@VABVOX) 28 août 2017
Ces inondations catastrophiques ont entraîné la fermeture de très nombreuses infrastructures (aéroports, autoroutes). Des milliers de secouristes sont à pied d'œuvre pour aider automobilistes et habitants pris au piège des eaux. Des dizaines de milliers de personnes ont été également évacuées.
JUST IN: More than 30,000 people will be placed in shelters and 450,000 will need disaster assistance due to Hurricane Harvey pic.twitter.com/C9EnwCvY1J

—

NBC

News (@NBCNews) 28 août 2017
#Houston residents help a couple in their 90's wade through flood waters to safety. #Harveypic.twitter.com/Lg8ZfP7ohQ

—

AMHQ

(@AMHQ) 28 août 2017
Selon les derniers bulletins météo, la situation risque de s'aggraver. En effet, des pluies torrentielles vont continuer de toucher la région de Houston ce lundi.
Additional heavy rainfall possible in/around the Galveston and Houston areas as the day progresses. #txwx#houwx#bcswxhttps://t.co/Kcr6FBVHGD

—

NWS

Houston (@NWSHouston) 28 août 2017